Welcome to my voice acting page. I'm Fio, 22, from the UK.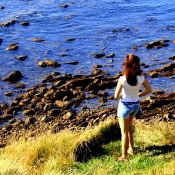 Scroll to the bottom to see my voice-over resume.
~~~~~~~~~~~~~~~~~~~~~
I'd describe my natural voice as smooth, warm and firm. My strongest accents are American Southern, American Mid-Western, British RP, Cockney, Generic Scottish and Australian.
~~~~~~~~~~~~~~~~~~~~~
I'm always available to take part in projects of any kind, be it animation, audiobooks, narration, video games, commercials... just drop me a message!
~~~~~~~~~~~~~~~~~~~~~
Here is my character demo reel.
I can play a wide range of characters to suit your needs from the 'badass tomboy/soldier' to the 'flirty seductress' to 'young male' to 'valley-girl' :


Any comments or questions, just ask! Follow or bookmark this page to stay up to date with my latest voice-over adventures!